Marcellus "Bear Heart" Williams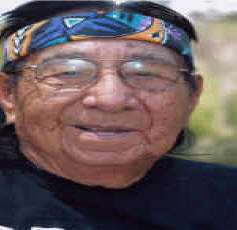 Marcellus Williams, deceased, was a multi-tribal spiritual leader of the Muskogee Nation-Creek Tribe. He was the author of "The Wind Is My Mother", Random House, which is now published in 14 languages. One of the last traditionally trained "medicine persons", Bear Heart, who speaks in 13 native languages, was also an American Baptist Minister and holds an honorary PhD in humanities. He served for 7 years as a member of the advisory board for the Institute of Public Health- Native American and Alaskan Natives at Johns Hopkin's School of Medicine.
Photo by Mike Andrews, Taos, NM
---
Other Honors
Past Director of Cultural Retention Program for Oklahoma Indian Affairs Commission for 20 years.

Keynote speaker for Indian Public Health Service and US Forest Service-Employee Development.

Prayed in the White House with President Harry S. Truman.

Ancestors: Trail of Tears.. Georgia, Alabama- marched to Oklahoma. His Great-Grandmother died on that trail.

Bear Heart was born in Okemah, Oklahoma, 1918.

He was a graduate of Oklahoma City College and Bacone College, an all Indian College.

He was called to be one of the spiritual counselors for the firemen and their families after the Oklahoma City tragedy.

He put down prayers with the Fire Departments at Ground Zero in Nov. 2001.

Bear Heart served on President Bush's Faith Based Initiative panel for the US Dept of Health 's WHEN TERROR STRIKES conference in NYC- 2001.

He represented Native American medicine people at the World Shamanistic Conference in Austria 1985.

He was the keynote speaker at the World Shamanism Conference in Garmish. Germany 2000.
New Mexico Magazine – August 2005
Turning The Page – Bear Heart Williams


Marcellus Bear Heart Williams is not a large man, but his presence fills a room. His voice does, too— it is deep and sonorous, especially when he chants or sings. And he sings often, sometimes in his native Creek, as one would expect of a medicine man, but sometimes at a wedding he —sings old love songs in English.

Bear Heart was born in 1918 into the Muskogee Nation Creek Tribe in Okemah, Oklahoma, and reared on two spiritual paths. His uncles taught him the traditional medicine ways of his tribe, and his mother steeped him in the Christian faith. He came to Rio Rancho 28 years ago when the late Dr. Harold Cohen asked him to serve as an adjunct consultant to the Memorial Psychiatric Hospital, and he still lives there with his medicine helper, Regina Water Spirit.
If he were so inclined, Bear Heart could string a bunch of titles and credits after his name. He is a Road Man in the Native American Church and an ordained American Baptist minister. He has received an honorary doctorate. He is the author of The Wind is My Mother, which has been published in 14 languages, and another book, The Bear is My Father, is in the works.
More significant to Bear Heart are the lives he has touched. He prayed with the firefighters at Ground Zero in New York City in November 2001, provided spiritual counseling to rescue workers and their families after the Oklahoma City tragedy and once met with President Truman.
"I went into the Oval Office and we talked," Bear Heart says of his visit with Truman. "I was a Baptist minister and he was a Baptist. As we talked on many things, I noticed all the papers on his desk. I realized that when he signs those papers it is not only for himself but for all the people. I prayed to help him guide the country and work out solu­tions for the country as a whole. If we can stand together spiritually, we can do many wonderful things to solidify that old American spirit in which this nation was born."
Since Bear Heart moved to New Mexico, he has worked with every type of group imaginable. He has led vision quests all over the state, most recently for an organization called the Gathering of Circles in Cloudcroft. For several years, the U.S. Forest Service brought manag­ers from around the country to New Mexico for 30 days of intensive manage­ment training, and each yearly session ended with a sweat lodge with Bear Heart. People from Germany, France, Denmark, Italy, Russia and Colombia have traveled to New Mexico to sit with him in council.
Here's his take on leadership: "Tra­ditionally the chief was the poorest man in the tribe. If he went on a hunt and brought back a lot of game, he gave it to widows who could not hunt for themselves. He was there to serve the people and he did it without resentment, with a sense of duty. When people lined up to eat, the chief stayed in the back and let others eat first. You don't see that today— the leadership is always the first to eat. I'm not saying we must return to the old way, but it was a way of life that supported the beliefs and respect of the people."
Perhaps the quality that makes Bear Heart especially appealing in this mod­ern world is that he is so inclusive. He doesn't judge but tries to understand. He calls people from all ethnic backgrounds and walks of life his uncles and aunts and children and grandchildren. They are folks to whom he has no traditional relation, but they have become family. To Bear Heart we are all one family, and it's not just what he says but how he lives.
"In the old days, during a battle, Indian warriors would stick a lance into the ground and remain beside it, fighting to the death," Bear Heart says. "They were fighting for the dignity of their peo­ple and they would voice a traditional Indian war cry, 'It is a good day to die.'
"We look back now at how they fought so that people might recognize the dignity of the people, how they lived and died. They have left it in our hands now, not only the Indian people but all the people together, so we can shake hands and make our own battle cry, 'It is a good day to live.'"
L. T. Amsden is a free-lance writer from Ramah. -- Photography by Steve Larese
This page updated 11/17/2008.